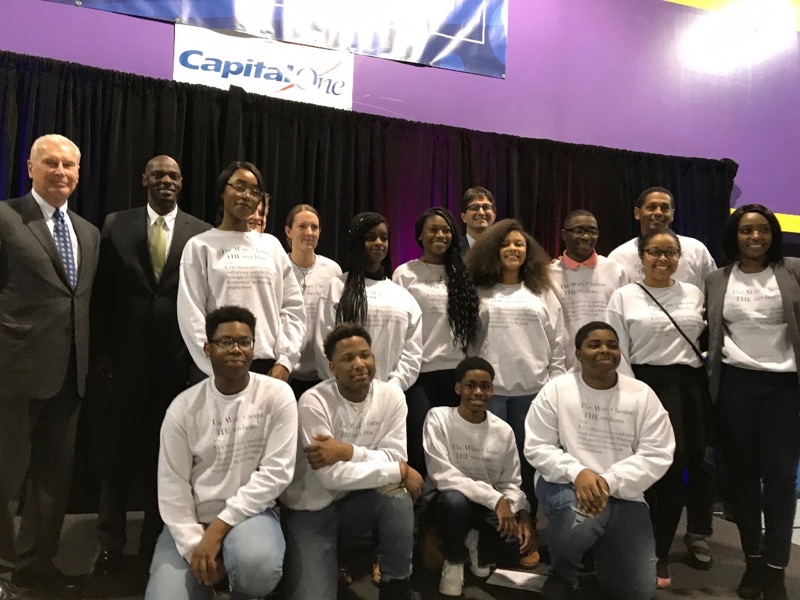 REACH Riverside Launches "The Warehouse" to Revolutionize Teen Engagement in Wilmington
Wilmington Mayor Mike Purzycki today joined with County Executive Matt Meyer, Capital One Delaware Market President Joe Westcott, members of the REACH Riverside Development Corporation, local youth-serving organizations and dozens of Wilmington teens to introduce The Teen Warehouse, Inc. (The Warehouse). A 2017 recipient of The Pete duPont Freedom Foundation Reinventing Delaware recognition, The Warehouse will develop a teen-led co-working and service delivery space in the former Prestige Academy building on Thatcher Street, at the southern end of the Riverside community.
The new facility is scheduled to open in the late summer of this year. It will serve as an after-school programming site where teens can access a range of services, challenge their creativity, explore their passions, find support and develop skills they need to enhance academic achievement and employment opportunities for a 21st-century economy.
ING Direct, acquired by Capital One in 2011, helped the Prestige Academy acquire the property, and Capital One became the owner of the property after the school closed its doors in 2017. According to Capital One Market President Joe Westcott, "Wilmington is a great place to do business. We are honored to give back to the city in a collaborative way, providing a safe, creative and engaging environment for teens and learning opportunities that will help improve life outcomes for our future workforce."
The mission of The Warehouse is to create a collaborative culture to revolutionize teen engagement in Wilmington with the vision of supporting confident, competent and courageous young adults ready to take the next step in their lives. The Warehouse will also create a physical safe space and network of support for Wilmington teens while nurturing a culture of opportunity that stands in opposition to a culture of poverty and violence.  Said Zorah Rothwell, a sophomore at Mt. Pleasant High School who introduced Mr. Westcottt, "As part of the team of teens working to bring The Warehouse to life, we are excited for the opportunities it will provide for Wilmington teens whose current options after school are just hanging out."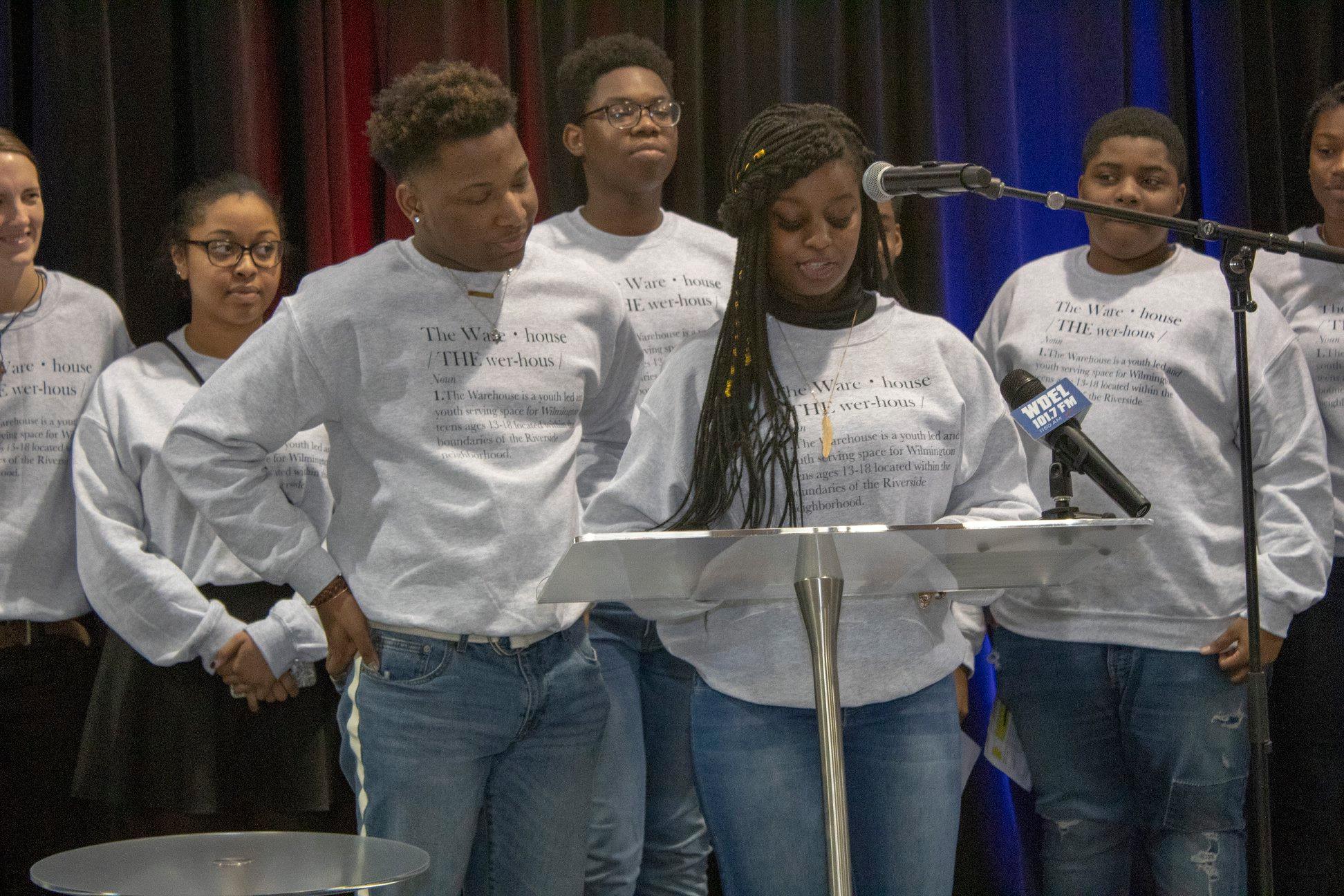 The Warehouse concept arose from the need for quality afterschool programs for youth in one of Wilmington's higher crime areas. Unlike a traditional community center, The Warehouse will employ a collaborative teen engagement structure involving a network of youth-serving nonprofits that will operate within the Warehouse framework and deliver programs under a shared roof. At present, more than 50 organizations have been working diligently over the past year and have signed on to provide services ranging from yoga and dance to mental health support, tutoring, music, job training and college readiness.
Working together, the partners will address educational and social and emotional gaps experienced by some of Wilmington's young people while providing opportunities for community building and fun. To accomplish this, youth are integral to the planning and design to assure the facility meets their needs.
To support the REACH Riverside community revitalization effort, The Warehouse will become part of the holistic Community Health and Wellness effort underway in Riverside. To create alignment with the REACH model, The Warehouse will also be guided by five pillars of success: Recreation, Education, Arts, Career, & Health. All Warehouse enrichment activities address at least one of these pillars of success, are age-appropriate, and are responsive to teen needs and desires.
The Warehouse will be an important component in addressing the problem of inner-city gun-related violence as its combination of programs, services and community involvement can be connected to the crime prevention recommendations made by the CDC. These include fostering violence-free environments, working with youth and families at risk, providing support for youth who have gone down the wrong path, protecting children and youth from violence in the community, integrating community services and helping to address policy issues that have unintended adverse consequences for youth. "Having a safe place with great programs to call our own for after-school and other activities will be a much-appreciated addition for Wilmington teens," said Tyler David, a sophomore at Howard High School who invited guests to join him for a virtual tour of the proposed Warehouse design and layout.
With renovation set to begin immediately following today's announcement, The Warehouse is scheduled to open in August 2019. In the meantime, teens will be working with The Warehouse leadership team to create the physical, programmatic and social spaces for this new home away from home where hope & opportunity will thrive.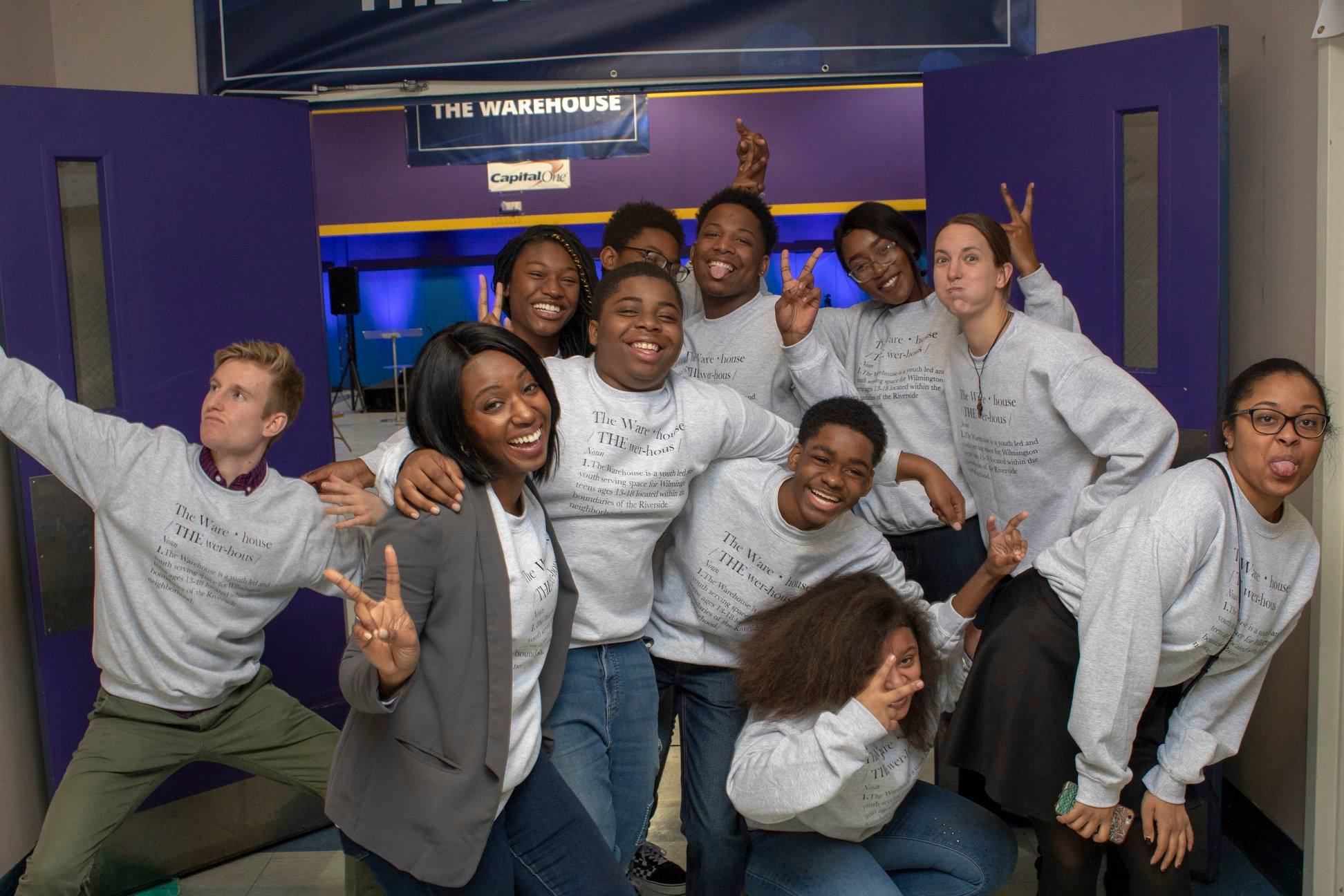 Champions of Success St. Elizabeth School Honors COO, Kenyetta McCurdy-Byrd ENTER TO LEARN… LEAVE TO SERVE… Kenyetta McCurdy Byrd has taken these words to heart from her graduation night in June 1990 to her current position as Chief Operating Officer of Reach...
read more
Volunteers pass out 250 turkeys to Wilmington neighborhoods 'devastated' by Hurricane Ida Hannah Edelman I Friday, November 19, 2021 I Delaware News JournalAlmost three months after remants of Hurricane Ida flooded Wilmington's Riverside and 11th Street Bridge...
read more

2300 Bowers St
Wilmington, DE 19802

A partner of Kingswood Community Center and The Warehouse